Why Give?
When you give, you provide more than hunger relief:
You make it possible for struggling individuals and families to afford other basic necessities like housing, medicine, and utilities.
You enable the State College Food Bank to share its resources throughout the county, making it easier for residents in surrounding areas to get help.
You give neighbors in need access to more fresh, nutritious food in a welcoming, dignified atmosphere.
Every gift makes a difference.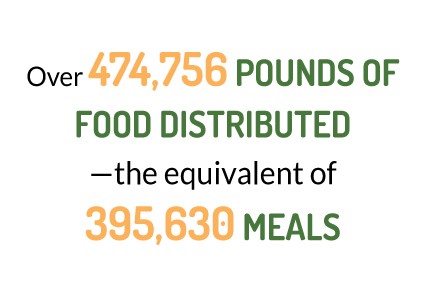 There are three ways to give, and each option has its own important impact.
Financial Gifts , which are critical to helping the Food Bank meet specific goals
Food Donations, which are checked for expiration dates then placed on our shelves or shared with another resource in Centre County
Non-Food Donations, which help the Food Bank serve clients and support our facility and operations
Learn more about these options to see how your gifts to the State College Food Bank change lives.
The Food Bank of State College Area, Inc. is a 501(c)(3) non-profit organization, so donations are tax deductible to the fullest extent permitted by law. The State College Food Bank is registered with Pennsylvania's Department of State, Bureau of Charitable Organizations. The Official registration and financial information of The Food Bank of State College Area, Inc. may be obtained from the Pennsylvania Department of State by calling toll free within Pennsylvania, 1.800.732.0999. Registration does not imply endorsement.
As you will not receive anything of value in exchange for your contribution, the entire amount of your donation may be tax deductible. Please check with your tax advisor.
Please Note: The Central Pennsylvania Food Bank (or South Central Food Bank) is located in Harrisburg, PA, and is a supply source of food for the State College Food Bank. It is a separate entity from the State College Food Bank.