Financial gifts are critical to the Food Bank in many ways. For starters, financial gifts support operations so that clients and volunteers have a safe, clean, organized space to visit and work.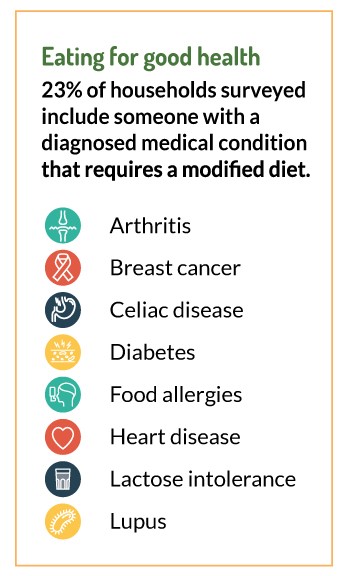 Fresh foods and special dietary needs
Even more important, financial gifts allow the Food Bank to purchase food and non-food items that are not donated, such as fresh food items like meat, dairy, eggs, vegetables and fruit, as well as foods that meet special dietary needs. Fresh, whole foods, and foods that are lower in sodium or gluten-free, for example, keep our clients healthy. The Food Bank gets tremendous value for your dollars when it is able to purchase from distributors like the Central Pennsylvania Food Bank, which charge far less for certain items like cereal, salad dressing, and even frozen meats.
Neighbors living on the poverty cliff
Private financial gifts also help the Food Bank to serve individuals and families who have lost their benefits, but are still struggling to make ends meet. Most often, these are working parents or seniors who make a little too much to qualify for benefits, but can't afford all their basic necessities. Your gifts help the Food Bank purchase enough food to support individuals and families in these circumstances, relieving the stress of how to put food on the table while still affording rent, utilities and transportation to work.
Financial donations come in many forms: cash/checks, gift cards, gift certificates or by credit card. All are welcome.
Credit Cards are accepted online only. Click here to donate online!
Checks are accepted by either stopping by the State College Food Bank during donation hours or by mailing your gift to: 1321 South Atherton Street, State College, PA 16801
Cash is accepted in person during regular donation hours (Donations hours: Monday/Wednesday/Friday 9:00 am to 3:30 pm; Tuesday/Thursday by appointment)

Sustaining Donations
The Food Bank established a fund with the Centre Foundation. Please consider supporting the Food Bank well into the future by contributing to this fund! To learn more about the opportunities available through Centre Foundation, please consult their Web site at http://www.centre-foundation.org.
You can also designate all or part of your United Way contribution to the State College Food Bank!
The Food Bank is grateful for your financial gifts, and for financial support from:
Centre County United Way
Emergency Food and Shelter Program
CROP Walk
State College Area High School's Empty Bowls Project
Downtown Rotary Club
Religious congregations, local churches and businesses
Service clubs and local schools
Official registration and financial information of the Food Bank of the State College Area, Inc. may be obtained from the Pennsylvania Department of State by calling toll free at 800.732.0999. Registration does not imply endorsement. The Food Bank of the State College Area, Inc. is a 501(c)(3) nonprofit organization - contributions to which are tax deductible to the fullest extent permitted by law. Please consult with your tax preparer on the allowable deduction.